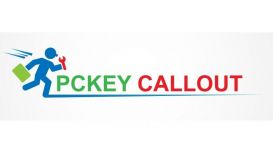 PCKEY CALLOUT was established by a computer repair specialist with a focus on providing computer users with a professional repair service to home clients and small organisations. PCKEY CALLOUT is a large chain computer repair and IT service provider in the United Kingdom. We offer our clients the same (we think better!) service than what other companies offer and at a more affordable rate.
Our development growth is the result of the relationships we have built with our customers and our engineers. Our technical skills, extensive experience, and financially cost-effective rates prove that PCKEY CALLOUT is the best. We have years of experience in delivering quality solutions to businesses and to home users which gives us the confidence to handle all kinds of complex IT situations.
At PCKEY CALLOUT, you will deal with a hand-picked expert engineer of your choice from our vast number of engineers. We provide a dedicated 24-7-365 technical help-desk and also network operations monitoring services with customers meeting facilities.
Our utmost satisfaction is gained from the positive feedback we receive from our customers who have worked with us and who have placed repeat orders with us. We never take our customers for granted and, consequently, we always try to innovate and seek ways to improve our service and to enhance our engineer delivery ability.
---
Services

Our Services:
At PCKEY CALLOUT, we repair and service all computer brands with an expert service at an affordable cost. PCKEY CALLOUT LTD has years of experience in software and hardware computer repairs. We usually arrange a visit within two hours of your call. With a confidence in supporting Locally Based Engineers - and giving the best standard to maintain client satisfaction, we are committed to offering you a great service at an affordable price.
PCKEY technicians can resolve all computer related problems such as:
Laptop Repairs;
Desktop Computer Repairs;
Windows Installation;
Software Errors;
Laptop Software & Hardware Repairs;
Hardware Repairs, Replacements & Upgrades;
Data Loss, Retrieval & Transfer;
Broadband Problems;
Internet & Wi-Fi Connections;
Not Booting Or Blue Screens;
Virus, Malware Or Spyware Removal;
Pc Crashing Or Freezing;
Network Repair & Setup;
Email System Configuration;
Computer Training & Tuition & Many More.
Our team of experts can repair all models including (yet not restricted to) the following:
Toshiba, Hewlett Packard, Levono, Acer, IBM, Sony, NEC, Dell, Asus, and Compaq to name the most common. If the model of your computer is not listed, our expert will help you to repair it. Engineers at PCKEY CALLOUT repair all makes and models of computers, both old and new computers.
PCKEY CALLOUT LTD is a privately based Computer repair service provider. We provide quality computers repair and IT Service as well as home service. We pride ourselves on providing the highest standards of service together with expert IT skills to our valuable clients.
The following are reasons why we are the best computer repair service provider:
Approachable, friendly and very knowledgeable engineers.
Expert computer repairs and solutions.
We provide an unbeatable combination of expert repairs, at a price that you can afford the repairs and all with a unique friendly service.
No call out fees for residents and businesses organisations.
No fix, no fee (this is the PCKEY CALLOUT policy. If we do not fix your computing problem, we do not request a fee).
At PCKEY CALLOUT, we offer an affordable price to repair your computer.
However, if your computer needs new parts then this will attract an additional cost.
Our engineers'diaries are available 24/7 through www.pckey-callout.co.uk and they will reach your home/business venue between the hours of 8am to 10pm, 7 days a week. A response message- to let us know you are satisfied with their service- would be appreciated.
Reviews and Ratings
We do not have any reviews about PCKEY CALLOUT available right now.