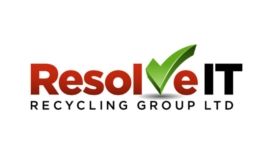 Resolve IT recycling group ltd - FREE means FREE! We never charge for our service. Some companies may offer a partially free service but we collect all electronic items for FREE! We leave nothing behind. Resolve IT are fully Environment Agency Licensed to collect and treat WEEE. We are 3 TIER ISO accredited and work to those very high standards. Welcome to Resolve IT Recycling Group. We provide a completely free IT and Electronic WEEE Recycling service. Founded on 10 years industry experience we deliver the very highest standards at no cost to our clients.
We are 3 Tier ISO accredited and those are the service levels we adhere to. When disposing of IT or Electronics you have legal requirements, that is where Resolve IT can help. We take care of the whole process from Booking – Collection – Treatment and Legal Paperwork. Our clients can be assured they are completely fulfilling ALL legal obligations including GDPR compliance. We guarantee to Securely Data Wipe ALL data sources. These include Memory Cards, USB flash drives etc. that sometimes get forgotten.
Rest assured that with our ISO27001 accreditation your data is safe in our hands. Data is destroyed to CESG IS5 standard or shredded and a certificate is supplied. Need a collection? Then no other company provides a more simple system for getting a collection date. Just have a look at our booking form which takes less than 5 minutes to complete. We will then deal with everything for you from setting a date to the collection and legal paperwork.
---
Reviews and Ratings
We do not have any reviews about Resolve IT Recycling Group available right now.